> The Video Pinball artwork turned out to be a lot more
> of a challenge than expected.
>
> For one, it is art that is intended to be lit in Blacklight.
> This changes the entire look of the artwork, AND, no scanner
> will pick up blacklight. You would have to somehow
> modify a scanner with a miniature blacklight bulb - and it
> MIGHT work. But, you are not going to find such a bulb.
>
> So that leaves Photographs. However, I dont happen to have
> a very good camera. In fact, most cameras will have a very
> hard time capturing good detail in low light. You end up
> with blur and loss of detail & color depth. Not to mention,
> with a camera, you have perspective issues. Meaning, you will need about 100 photos
> to get enough data for a
> non-perspective stitch. (the art is NOT FLAT! )
>
> Then you have the problem that mame does not display
> 3d planes. The art is NOT FLAT! It has foam parts stuck
> on it that are 1cm thick. A typical scanner cant even scan
> both layers at once... which would mean you would have to
> destroy the artwork to scan both layers.
>
> Next, mame is set to display it as "Flat". Which means
> you wont even see the artwork the way it was meant to be
> seen. Therefore, making it just about pointless to even
> do in the first place.
>
> (just about as pointless as getting that gun game smitt
> is interested it... cause that game has real cups that
> fly apart via strings (its not a video image) - and mame,
> as far as Ive heard, has no intent to simulate such a thing)
>
> Just as it was initially Pointless for me to scan in the
> Discs of Tron artwork Ages ago, when mame would only allow
> an image with 256 colors. Yet, I did hold on to the images
> for like 3yrs or so, when mame finally adapted to support
> 16 bit color art.
>
> For me, its not about the lack of motivation however. It
> the lack of a $1000 camera, and the desire to do the job
> right.
>
> For the Artwork to be shown as it should, in all its
> blacklight glory, as well as in its true intended
> perspective.
>
> While I Do have a lead on a possible Photographer to help
> out... Ive not done so, more or less, because "if" I can
> get him to do it.. it has to be a one shot deal. I cant
> expect the guy to spend several hrs on something he has no
> interest it.
>
> So, send me a $1000 camera, Ill do the deed and send the
> work back for free, as intended. I dont charge $50,000
> for something that should be preserved for history.
> (even though admittedly, Im not much of a fan of
> Video Pinball)


For anyone who is interested, if you look at the diagrams in the Video Pinball manual...

http://mame.3feetunder.com/mameworld/Video_Pinball_TM-130_1st_Printing.pdf

...you'll see that the "playfield" is actually in the top of the cabinet and you look down on a partially-reflective mirror that combines the reflected playfield from above with the monitor graphics from below. There's a blacklight next to the playfield that either illuminates it directly, or with reflected light from the mirror.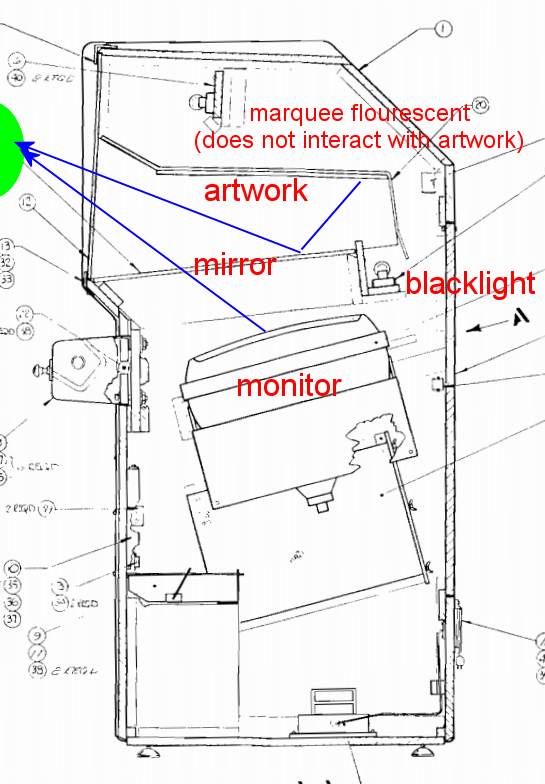 The playfield itself is made of two layers, with the bottom layer (when viewed while mounted in the cabinet) being much thicker, with cut-out areas. Because of the viewing angle, you actually see the edges of this layer reflected in the mirror, so the playfield is in effect "3-D".

After spending some time thinking about it, I think the "correct" way to properly capture the artwork is to take a real Video Pinball machine, replace the partial mirror with a full mirror, turn on the black light, and photograph the mirror from the angle of an actual player.

To emulate it properly, the output from MAME would then need to be perspective corrected to match the angle of the artwork photograph, then overlaid on top.

Since the perspective effect in MAME probably won't be happening any time soon, I think for the meantime you could rig up something with a blacklight and a just snap a high-res digital photograph straight on, possibly with some sort of a tri-pod to get a sharp stable picture.

This image would then need to be mirrored, and the scoring LEDs would need to be emulated and added with the artwork system. I think the manual has a schematic for the scoring LEDs, if needed.


---
GroovyMAME support forum on BYOAC