> It's certainly feasible, it's just that original games that are actually fun are a
> little hard to come up with. Ports are a lot easier, but, then you might as well play
> the original.

So, yeah, coming up with entirely new fresh ideas that would be just plain fun with limited 80's graphics would be as tough as... coming up with ideas back in the 80's that would be just plain fun due to limited graphics. It was done, but it required everyone thinking outside the bun for the next new big title.

But to take existing ideas and tweak them into something, I think there's huge potential. DK2 etc.

I think a great mod would be a head-to-head Battlezone, with two screens and sets of controls. I made a photoshop mock-up of this idea once, but I can't find it.


Heck, why stop there, network a whole game-room of cabs ŕ la peanut butthole sandwiches.

Another similar awesome "hack" idea would be a head-to-head penguin kun wars. That game is in my top 10 as it is.... to play head-to-head would make it dagnabin near top 2. Ever play Hat Trick? Way fun. We've had so much fun on that, I had to call an ambulance for a guy who funned over the top. Now imagine that not on ice, but over a gymnasium floor, and not a hockey puck, but a dodgeball, and not just one puck but like 20 dodge balls, and not a hockey player, but a penguin. Penguin kun wars, not vs an AI, but vs your Aunt Nicky. Are you keeping up with me on this? It would make sense to have paramedics on standby, that's how fun that would be. Awesome 80's graphics and all.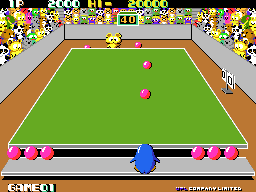 Still on my bucket-list to hit the lottery, and then open a one-of-a-kind arcade full of high-quality "hacks" of old titles. Not emulated hack titles, but actually burned onto roms and snapped into mother boards. With style. So, old programmers, keep your resumes sharp, because I bought another ticket this weekend, and I got a good feeling about that Powerball.


---